The Instrumentarium consists of two pieces: a portable wireless wearable device - SOMAPHONE and SOMPAHONE Base Station employed for the main audio-visual synthesis and control system.

The wearable device SOMAPHONE can be attached to the body of the performer and is based on INTEL® EDISON equipped with sensors for capturing information about the changes of the biological processes occurring in the performer's body such as heart-rate and body tension - measured through the galvanic skin response, and also it is capable of sensing body orientation and movement in space.
We used the Sparkfun INTEL® EDISON Blocks to quickly prototype our wearable device.


The captured information is streamed wireless to the main device - the SOMAPHONE Base Station via Bluetooth 4.0 LE for further analysis and is used in the sonifcation process and to control the generative music and visualizations in real-time.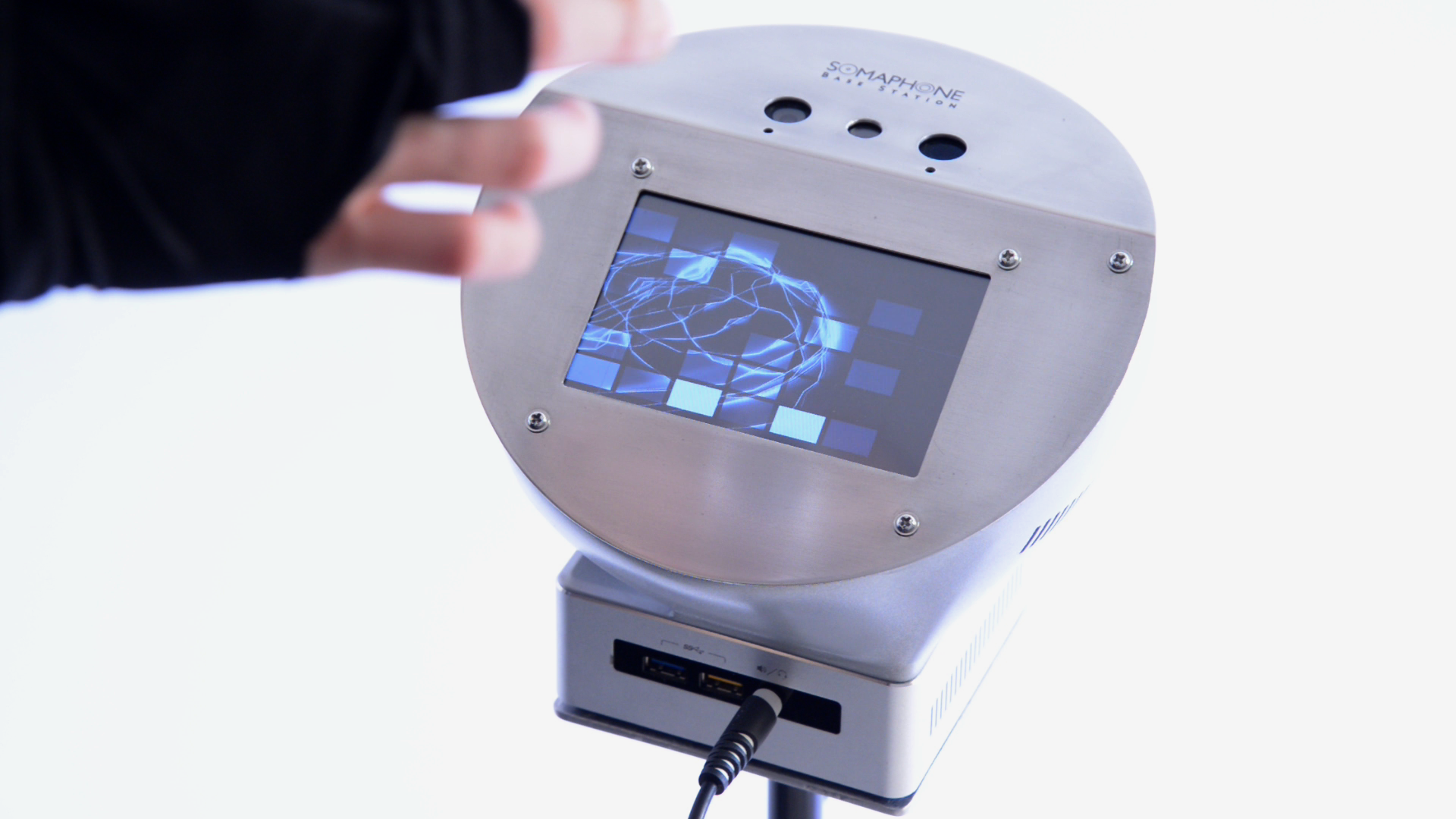 The second piece of the Instrumentarium - the SOMAPHONE Base Station includes an INTEL® RealSense™ 3D camera F200, tracking the motion of the hands in 3D space, a touch-screen to control the audio-visual performance and a powerful mini computer - INTEL® NUC 5i7RYH - performing the actual audiovisual synthesis. The 3D camera is used to extract information about the movement, such as phrasing and segmentation, recognition of postures and gestures. The motion tracking and the biofeedback signal analysis, as well as the visual and musical synthesis are tightly interconnected and allow a digital artist to form feedback loops between different media and the performer.
RESOURCES
Round housing for INTEL® EDISON using the SparkFun blocks: Battery, 9 Degrees of Freedom and ADC
Reading the sensors input, processing and sending the information as OSC bundles
Hardware components & Sensors
Housing for INTEL® NUC (5i7RYH) including a 5" touch-screen and INTEL® RealSense™ F200 3D Camera
Sompahone top plate holding a 5" touch-screen and INTEL® RealSense™ F200 3D Camera
Access INTEL® RealSense™ API from VVVV
OSC messages parser for VVVV
OSC Max4Live devices for Ableton Live
NOTE: We are continuously working to release more resources, design files and code in Q2 2016.